Rev. Jessica Johansson, MDiv, RMT
Usui Reiki Master Teacher
Reiki
Reiki is an energetic healing art with its roots in Japan. The word Reiki comes from the Japanese word Rei, which means "universal life," and Ki, which means "energy." Reiki is not affiliated with any particular religion or religious practice. It is not massage, nor is it based on belief or suggestion. It is a subtle and effective form of energy work. Learn more: https://iarp.org/learn-about-reiki/
Reiki Practitioners understand that everyone can connect with their own healing energy and use it to strengthen their energy and help others. It is believed that a person's ki or energy should be strong and free-flowing. When this is true, a person's body and mind are in a positive state of health. When the energy becomes weak or blocked, it could lead to symptoms of physical or emotional imbalance.
A Reiki session can help ease tension and stress. It can help support the body to facilitate an environment for healing on all levels – physical, mental, and emotional, and promoting overall wellness. This is a wonderful addition to your self-care program.
Each one-hour session includes a 10-minute consultation, 45 minutes of Reiki, and follow-up discussion to go over the findings.
$75/session. Please call or text 603.200.3037 to schedule.
Chakra Balancing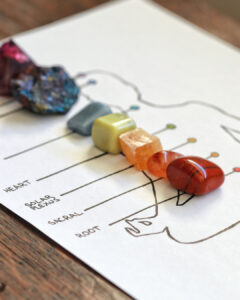 In Sanskrit, the word "chakra" means "wheel" or "disk" and refers to the energy centers in your body. Seven main chakras are situated along the spine, spanning from the base of your spine to the crown of your head. These spinning wheels of energy correspond to specific nerve bundles and major organs. To function at their best, your chakras need to be open or balanced. If a chakra becomes blocked, you may experience physical or emotional symptoms related to that particular chakra.
Chakra balancing encourages your body to return to a natural state of balance and joy. I bring my multi-faceted training and perspective into each session to balance and invigorate the chakra system. All sessions are individually tailored and can include Reiki, guided visualization, chakra-specific aromatherapy/essential oils, sound therapy, and personal affirmations.
Each 90-minute session includes a 10-minute consultation, 60 minutes of chakra balancing, and a 20-minute discussion to review your experience and provide any necessary follow-up instruction. $100/session.  Please call or text 603.200.3037 to schedule.
Palliative / End-of-Life Reiki and Energy Work
In addition to being a Reiki Master, I am an End-of-Life Doula (NEDA Proficient). I have also had additional training in energy work at the end of life. I use a combination of Reiki and other intuitive methods in my energy work for those receiving palliative and hospice care and their caregivers. Reiki can be performed at any stage of the dying process and can be especially beneficial as it can promote the following:
Relaxation
Releasing of Anxiety, Fear, and Grief
Easing Physical Pain
These one-hour sessions are tailored to each person and their specific needs and are available at home or in facility.
$100/session (includes travel within Monadnock Region)
Please call or text 603.200.3037 to schedule.
---

Member, International Association of Reiki Professionals
For more information: Rev. Jessica Johansson